What is Real Poker?
Real Poker is an Indian poker website. They strongly believe in providing the best poker experience to every player. They have a loyal group of active poker players which keeps on increasing every day. You can play various cash games as well as tournaments on this site.
They differ from other poker sites, as they charge low rake. They also provide various promotions and bonus to the players. Because of this reason the players keep coming back.
They have innovative features like voice activation. You can talk to the players while playing online poker with them. You will get multiple poker games. They have different variants of games to suit everyone.
Features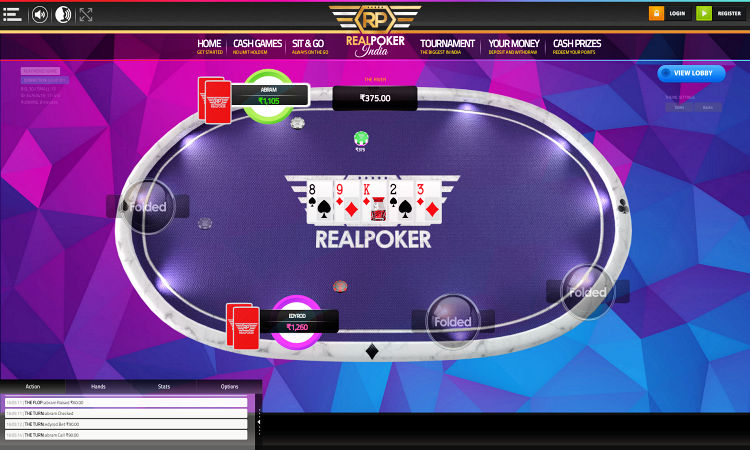 Real Poker is not just any ordinary online poker platform. You will get new and innovative features on this platform.
Registration Bonus: They provide free registration. You don't have to deposit any money in order to register with them. On top of that, they will give you Rs.1000 as a registration bonus. You can use this money to participate in tournaments. 
Referral Fees: You can also take advantage of the referral fees. They provide 25% as referral fees. 
Poker Insights and Tips: If you want to know about all the latest poker news, you can check it on the platform. They provide free poker tips and news to all players.
Leading Players: You can check the table of all the leading players on their website. They highlight the name as well as the winning amount of all the winners.
Current Activity: You can check the current poker activity. It will show you the number of open tables, ongoing tournaments and Sit & Go open tables.
Direct Login: If you are already registered and want to play instantly, you can choose the direct login option. This option will give you instant access to the games.
Reward: They have Rs.100,000 guaranteed rewards and bonus. You can participate in live poker tournaments to win the real cash prize.
Tournaments: They host various tournaments. You will get details of all the upcoming tournaments. You can buy the ticket and enter the event.
Daily Freeroll: You can participate in a daily freeroll and win Rs.1000 every day.
Rs.30,000 Tournament: This event takes place twice every day. You can enter this tournament to win the prize.
No Deposit Tournament: It is a free tournament. You can enter for free and win up to Rs.5000.
Poker Games: You can play free poker games, cash games, Sit & Go games as well as Texas Holdem.
Low Rake: They charge the lowest rake, i.e. 4%.
Download App: You can download the app on your mobile as well as your computer to play.
Rake Back: You can enjoy 25% rake back on your spending.
Account Statistics: You can check your account statistics using this feature.
How to Play?
There are two ways by which you can play online Poker with this site. You have to download the app first. After that, you have to sign up and register. Once you do that, you can either play the game from the app or use the website to directly login and play.